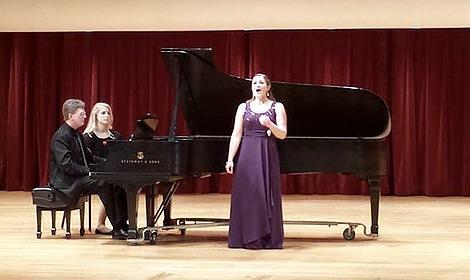 What is this? Community of Singers Voice Class is a 90-minute weekly singing session, where singers will learn the basics of vocal technique amidst other fellow singers. In this community, you will learn the power of finding your voice and its' positive effects on your life as a whole.
How does this differ from private voice lessons? While the subject matter is the same for both, Private lessons are one-on-one voice instruction, whereas the Voice Class will consist of around 5 singers.The first part of the session will be learning a vocal tool, and the rest of class will be used for practice. Students will get a chance for personalized attention and have the added bonus and energy of being able to observe and support their classmates' vocal journeys.
What information will be covered? Students will learn the basics of:
Diaphragmatic-Intercostal Breathing
Bright forward vocal placement
Diction--easy and clear ways to express vowels and consonants
Performance practice
Artistic Expression
Confidence building through the support of loving teacher and community
When is it? The Fall Session includes 10 classes and will meet on Wednesdays from 5:30pm-7pm from September through November. Here are the dates:
September 5, 12, 19, 26.
October 3, 24, 31
November 7, 14, 28
How much does it cost? $400 for the entire course!
If students are unable to pay in full by the first class, they may pay in two installments of $200,
the first payment is due at the time of first session on September 5th
second payment is due on October 3rd.
Payments can be made in-person or online at Mindbody. The is a service fee for payments made by credit card.
Note:
In order to run the program a minimum of 3 students is required. Maximum of 5 students.
If the program doesn't reach the minimum require of students, the enrolled students will receive an email with the notice of cancelation and will be reimbursed.
Who am I? My name is Maire (pronounced Mary) Clement. I am a voice teacher, yoga instructor and performing artist based in Jamaica Plain/Roslindale. I have my MM from University of Louisville, and my BM from Lawrence Conservatory of Music. I have performed internationally. As a yoga instructor, I implement breathing and body awareness exercises to release fear and stress to aid in vocal development. I believe that through sharing my vocal and yoga expertise with fellow singers (of all levels), I am helping make the world a better place in the only way I know how...through setting your voices free! For more information, check out my website: http://maireclement.com
Notes
new 10 week session starts 9/5